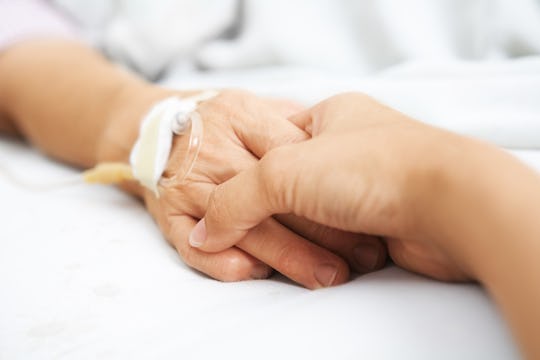 Arto/Fotolia
13 Reasons Why Your Non-Mom Friend Can Give You The Best Support During Childbirth
One of the most important decisions a new mom (or any mom) will make, is who she will allow in the labor and delivery room. Whether she's birthing at home or at a birthing center or in the labor and delivery wing of a hospital, who she surrounds herself with when she does (arguably) one of the most difficult things she'll ever do in her life, is paramount. I know having your mom and partner and perhaps even other moms there with you may or may not be helpful, but there are so many reasons why your non-mom friend will give you the best support during the labor and delivery process. Trust me, because my kid-free best friends definitely did.
I had my partner and my two kid-free best friends in the labor room with me; one best friend from the very beginning of my labor process, and the other towards the end, when I started to push. Having two women who knew me way before I ever decided to be a mother, two women who weren't mothers themselves, was so helpful, I often wonder why this apparent "war" between parents and non-parents even exists. My friends were kind and understanding and helpful and they made me laugh and they didn't take things too seriously and they didn't give me unsolicited advice and they were my greatest advocates, because they had the freedom to be. While my partner was focused on me and our baby, they could be focused on the little things; in part because they didn't have a baby or kid or immediate family to tend to of their own. While I understand that sounds a little selfish, I would argue a woman giving birth deserves to be selfish so, you know, it is what it is.
Mostly, my friends were able to experience labor and delivery, for the first time, with me. I didn't feel alone in my fear or my anxiety or my astonishment, because they felt it, too. It was just an amazing experience that bonded us all and made our friendship even stronger, while simultaneously helping me bring my son into the world. So, with that in mind and if you're wondering who to bring into your labor and delivery experience as your due date approaches, here are a few reasons why a non-mom friend might be the perfect labor and delivery addition.