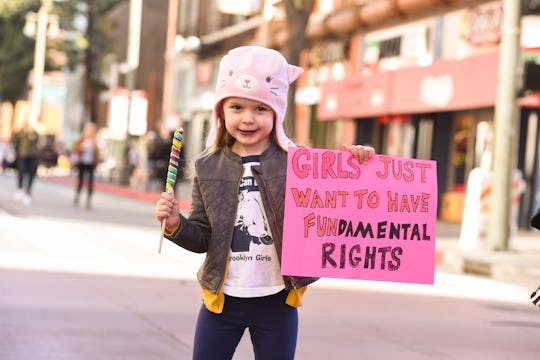 Presley Ann/Getty Images Entertainment/Getty Images
Your Kid Will Remember Carrying These Women's March 2019 Signs With Pride
The Women's March hits the streets again on Saturday, January 19, and people all over the country will be taking part. Whether you're heading to Washington or marching through your hometown, it's never too early to get your kids involved. It's a great opportunity to teach them about civil disobedience and standing up for the causes that matter to them. There are lots of sign ideas for kids going to the Women's March that can help even the littlest participants give voice to their concerns.
The first Women's March in 2017 may have been the biggest single-day of protest in American history, according to The Washington Post. Women came out in droves, and many brought their children along to be a part of history (and lots of those kids ended up stealing the show). While the 'official' March this year is taking place on the National Mall, there are local marches happening in almost every state. The event is also going global, with marches taking place in countries throughout Asia, Africa, and Europe according to ABC News. So no matter where you live, you've probably got a chance to teach your kids about the power of the protester.
Here are 13 sign ideas for little marchers to make their voices heard.