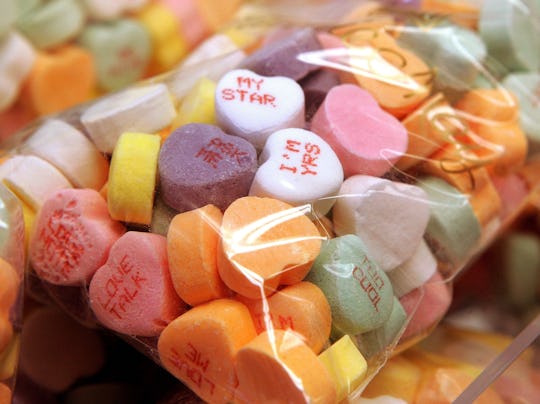 Tim Boyle/Getty Images News/Getty Images
Candy Hearts Every Mom Actually Wants To Eat
"Be Mine." "Soul Mate." "Kiss Me." Once upon a time, those were the conversation hearts that would've been the keys to the Kimmie Kingdom. I've always been a romantic at heart (Romeo and Juliet gets me every time even though *spoiler alert* everyone dies). I love that mushy crap. Love looks differently now that I'm a mom, though. The needs of moms are special, and maybe candy manufacturers should take notice. I'm willing to bet that there are some special candy hearts moms want to receive on Valentine's Day.
Conversation hearts are a time-honored Valentine's Day tradition. Those sweet little chalky delights have been around for a century and a half! Initially, they were sold as scallop-shaped "cockles" during the Civil War and, well, it was a big deal to be able to print directly on the candy. The little hearts we know and love came out in 1902. Some of the original sayings are still around, but every year they roll out new phrases. In the past, there have been themes like "A Menu of Love" and "Love's in the Forecast." This year, they're going hip with "BFF" and emoticons.
If candy hearts can keep up with the times, I don't think it's too much to ask that they design a few with mommies in mind.