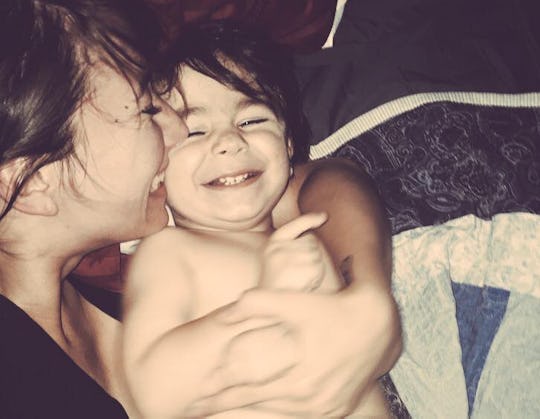 Courtesy of Danielle Campoamor
9 Reasons Why I Don't Like Being Labeled As A "Mom"
Up until a few years ago, I didn't want to be a mom. I had never wanted to experience pregnancy and I didn't envision having kids. Suddenly, my future plans changed and the idea of procreating with my partner didn't send shivers down my spine. When we found out we were pregnant, I decided I actually wanted to be pregnant and, at the end of that pregnancy, wanted to be a mom. Now I have a two year old son who is as wonderful as he is challenging. Still, I don't like being labeled as a "mom," and the reasons why I didn't want to be a mom all those years ago are why I dislike it when someone refers to me as a mom, and nothing but a mom.
Prior to becoming a mother, I bought into the idea that motherhood means the end of, well, everything else in a woman's life. I value my career, and thought that I couldn't continue to work and be a "good mother." I listened to our society tell women that they need to sacrifice every single aspect of themselves the moment they become a mother, so I decided motherhood wasn't for me. That decision changed, but the expectations of motherhood have remained and I'm not oblivious to them. Now that I'm a mom, people view me a particular way or think I should act a certain way or tell me that my son should be my entire "world." Now that I'm a mom, that's all I am to so many people, and the rest of my humanity feels erased or no longer significant.
It's not that I'm embarrassed to be a mother or don't love being a mother or regret my decision to be a mother. Not a single days goes by when I don't think that becoming a mother was one of the best decisions I've ever made. It's just not the only decision I have made, and it is not the only defining characteristic of my life. I am more than a mom, yet when someone calls me a "mom," my choice to procreate seems to be the only thing that gives my life any value. I disagree, and until our culture views and treats motherhood differently, I will continue to dislike being labeled "mom" for the following reasons: