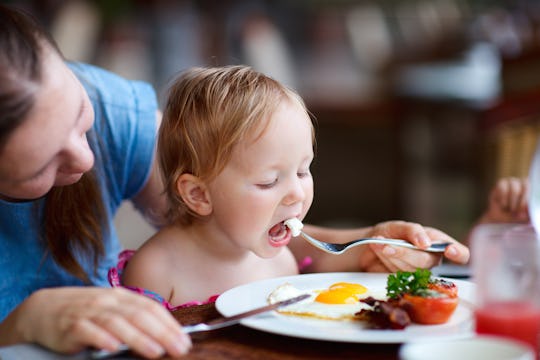 Fotolia
14 Desperate Things All Moms Will Eventually Do To Get Their Toddler To Eat
For some parents, meal time with their littles is an enjoyable event. For others, it can become a downright battle. Not every child is the same, and so some of us have to work just a little harder than others to get our kids to eat. Toddlers can become especially picky about what they'll down at the dinner table, wrinkling their nose at their peas or spitting out everything, from chicken to tofu. Which is why, of course, moms will do some desperate things to get their toddlers to eat.
Of course, we also want to assist our children in establishing a healthy relationship with food. We don't want to force them to eat, or continue eating when they say they're full, or tell them that some foods are "good" while other foods are "bad." Simultaneously, we want our children to be getting the nutrition they need, so when your toddler's eating habits start to regress, you can't help but worry. I'm talking worry to the point that, as parents, we're happy with them eating pretty much anything.
So, If you're currently finding yourself in the trenches of feeding a picky eater or a regressing toddler, don't worry; you're not alone. More so, you definitely won't be getting any judgement from me, as I've done some pretty desperate things to get my kid to take just one more bite of zucchini.