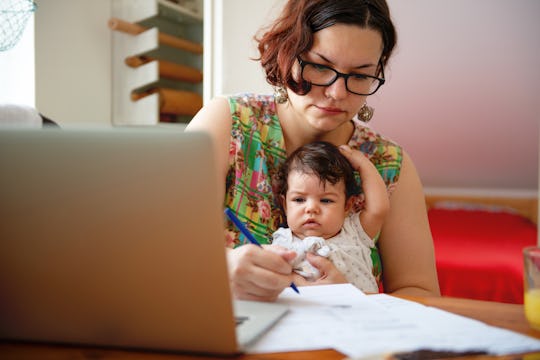 Shutterstock
14 Painfully Hilarious Tweets About Weary, Wonderful Working Moms
You've got to give it up for working moms. They handle boardroom meetings and breastfeeding with ease. They race home just in time for the witching hour when they have to whip up a meal (still wearing their work clothes, natch) that absolutely no one will eat. They burn the midnight oil trying to get work done because it's almost impossible to get anything done in the office. So of course there's an almost endless stream of hilarious tweets about working moms, which is good news for over-extended mamas in desperate need of a laugh.
The working moms of today look a lot different from those of the past, mostly in part because the world of work has changed. Working mothers might work a traditional 9-5 job, or they might work nights and weekends. Full-time, part-time, job sharing, flexible schedules, compressed workweeks — you name it, working moms do it all. And then there are the work-at-home mothers who telecommute while still trying to get work done (despite interruptions from friends and family who don't necessarily "get" what it means to work remotely).
In the end, though, let it be said for the record that all moms are working mothers, employed or otherwise. These memes will probably resonate with mommas everywhere who are just trying to bring home the bacon... and the breast milk, too.