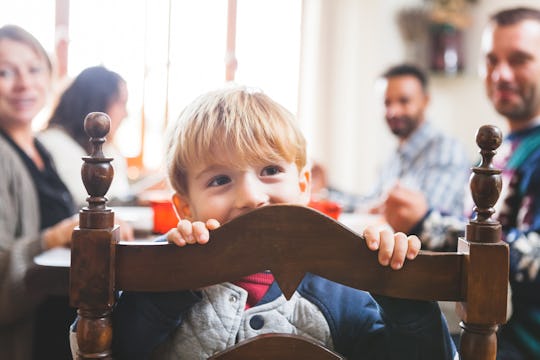 Giorgio Magini
14 Kid-Friendly Friendsgiving Ideas For 2019, Because They Are So Bored
Friends are often the family we choose, particularly around the holidays. Whether you don't have a relationship with your family or they live too far away for you to get there this Thanksgiving, it can be really fun to celebrate with a great group of friends. You might approach the holiday in a different manner when you are all pooling your resources and you don't have relative who demands that things be done a certain way. And you most likely will have a bunch of kiddos running around so here are some awesome kid-friendly Friendsgiving ideas for 2019.
A nice thing about establishing your own tradition with your friends is that you probably have kids around the same age so a vat of mac and cheese will go a long way. Just make sure you get the boxed kind, nothing fancy with breadcrumbs, and definitely not multicolored; monochromatic is key. As everyone probably has their own family traditions, you can decide as a group to incorporate (or eliminate) them, and you don't have to worry about being a good daughter-in-law or your mother telling you that she liked you better with your old haircut.
If one person's house lends itself to hosting and has ample oven space for a big bird, go there. Have a surgeon friend? Let them do the carving. Your friend that isn't the greatest cook? Bet they can do the dishes. The more everyone pitches in, the smoother it'll go. Or if no one feels like cooking, you can even order take out. The rule is that there are no rules — figure out what works for the group and tweak it as you go.
This article was originally published on