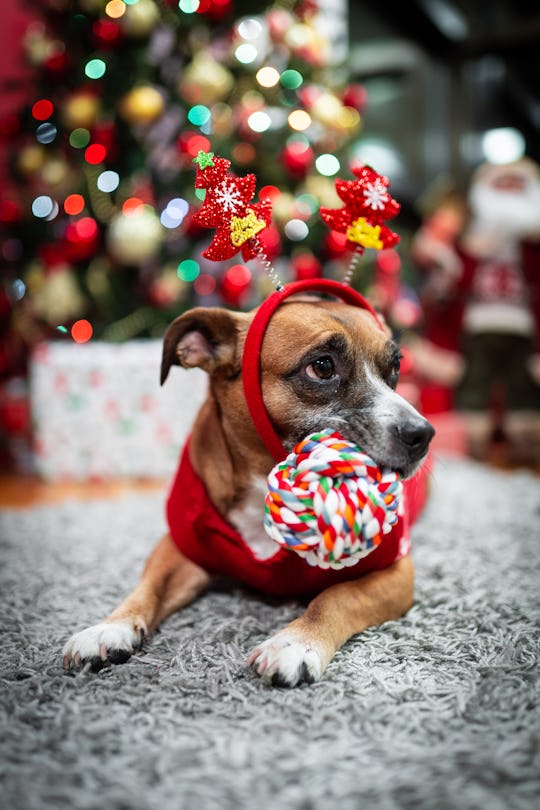 Wolf1988/E+/Getty Images
Your Very Good Doggo Deserves These 14 Last Minute Holiday Gifts
In the December scramble, it's easy to forget to buy something for your furry friends who haven't made elaborate wish lists and dropped hints (as in, told you exactly what they want) every time you enter a store. If you just realized you're missing something for a certain very good girl or boy in your life, don't worry, these 14 last minute holiday gifts for dogs are perfect for putting in your pet's stocking.
Even when your pup briefly ends up on the naughty list (maybe by destroying the Elf On The Shelf, which honestly could be a favor, depending on how you look at it) they still spread joy all year round, which is exactly what the holidays are about. Sure your dog may have no idea why they're wearing antlers, sitting on a Santa's lap, or are suddenly allowed to rip open packages, but your kids will get a kick out of seeing your pet get in on the holiday action, and everyone, regardless of species, loves receiving new toys.
From gingerbread houses and "puppuccinos" to festive pajamas that'll make them a hit in the family photo op, I've got you covered with gifts your dog will love to unwrap. Because let's face it, it's fun for them to unwrap anything, but these options are especially jolly.