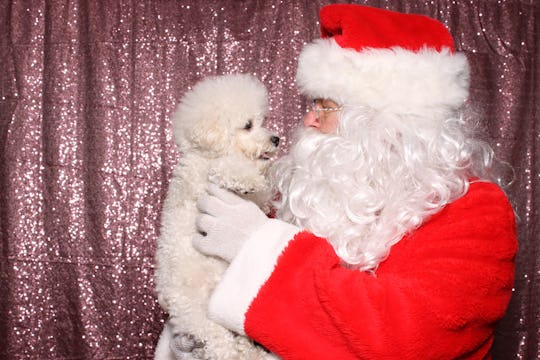 mikeledray/Shutterstock
Stop What You're Doing & Look At These 38 Pics Of Dogs With Santa
Listen, it's common knowledge that dogs make every part of life better, including the holidays. Stockings hung on the chimney with care look sweet, but add a stocking for your pup that's filled with treats and toys and suddenly your mantle is movie-worthy. Kids playing in the snow make you smile, but it's a dog running around and diving into the winter fluff that will make your heart burst. Even the Grinch had a puppy for crying out loud. Dogs are clearly the key to unlocking that holiday magic, and here are 38 pictures of dogs with Santa to prove it.
These photos are adorable, hilarious, and you can't help but be really impressed by some of them. Not everyone likes posing for pictures with Santa (though check out the rundown on Soothing Santa, the perfect Christmas pal for kids with sensory challenges) and dogs aren't known for being the most cooperative models. But if you can manage to get a pic of your pup with a jolly old man in a red suit, it'll 100 percent be worth it.
Barkpost has some advice for anyone trying to get their dog to pose for a pic that can help you out when you take your pup to the mall for the Santa photoshoot, but if that seems like way too much effort, just check out these photos of dogs who've already experienced a bonding moment with St. Nick. They might not be your dog, but they're still adorable.
This article was originally published on