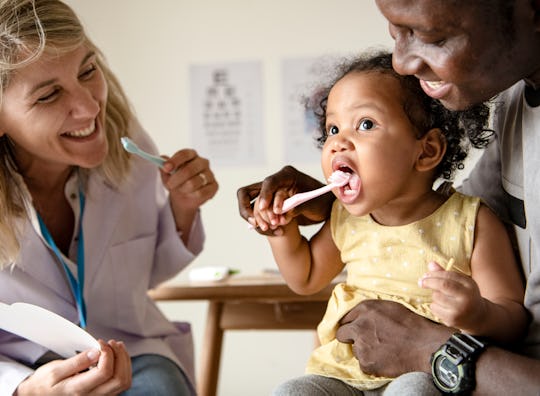 Shutterstock
Here Are 14 Important Questions To Ask The Pediatric Dentist At Your Kid's First Visit
When our son finally got his first tooth after what felt like months and months of teething, my husband and I were elated. But with every milestone there are questions. I wanted to know not only when I should make his first appointment with a dentist, but also, what are the most important questions to ask the pediatric dentist on that first visit?
The American Academy of Pediatric Dentistry (AAPD) recommends you take your child to the dentist for the first time by age 1, or within six months after they finally get that first tooth. So it looks like we need to start planning that first visit pronto because our son has even more teeth now and he's a year old. Thankfully, we'll be armed with the right questions when that time comes. I asked pediatric dentists what we should ask our own dentist when my son gets his first turn in that chair, and there are some queries on this list that might not occur to first-time parents.
If you're wondering what the difference is between pediatric dentists and "grown-up" dentists (or if there is a difference), the AAPD explains on its website that "a pediatric dentist has two to three years specialty training following dental school and limits his/her practice to treating children only. Pediatric dentists are primary and specialty oral care providers for infants and children through adolescence, including those with special health needs."
Also, pediatric dentists usually have kid-centric distractions in place, like Paw Patrol on the TV and fun sunglasses. (It's all about the distractions.) And they'll definitely be able to answer the following questions.