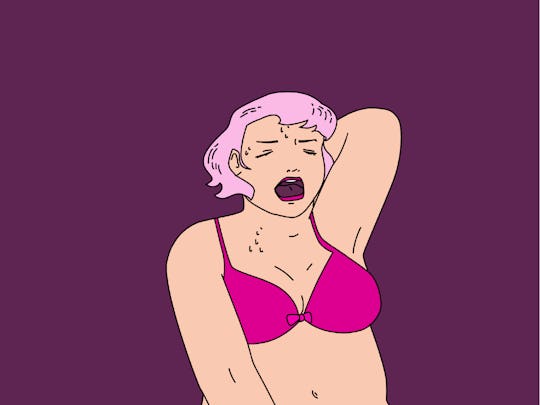 Allison Gore/Romper
14 Reasons Women Who Refuse To Hate Their Bodies Are Amazing In Bed
You know how, in movies, the overly confident, kinda mean people are someone portrayed as toxic-but-still-super-hot? Yeah, that's a fairly shitty portrayal of a depressingly accurate reality, but there's a closely related, and way less annoying related phenomenon: women with body confidence are more attractive for sure, because there's obviously a huge difference between "awesomely confident" and "arrogant, egotistical jerk" but both tend to be pretty hot. Actually, women who refuse to hate their bodies are not only more attractive, they're amazing in bed.
Women who has decided not to buy into the idea that their bodies are somehow not good enough are confident enough to not be worrying about what they're looking like through each position, or whether or not their partner can see those barely there love handles. Over confidence might be pretty close to the highest level on the douche-o-meter, but having body confidence and refusing to hate your body makes for a bomb-ass time in bed for these body confident women and their partners.
I don't know that I totally refuse to hate my own body; Like most people, I have my rockstar days of feeling too photogenic not to take hella selfies, and then I have my days of feeling most comfortable in huge sweatshirts and yoga pants (even though you know I wouldn't be working out, so those things are totally just for show). Anyway, women who refuse to hate their bodies can look forward to some ridiculous sessions in bed. Here are just some of the reasons why their confidence game makes their bedroom game on point.