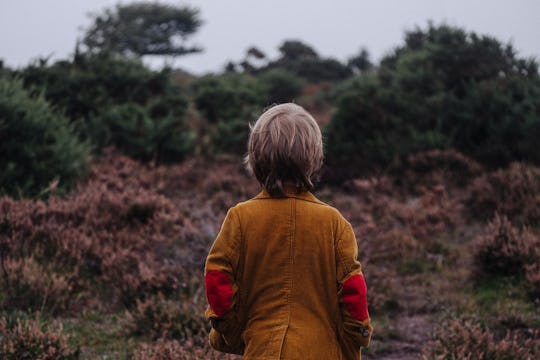 Annie Spratt/Unsplash
7 Ways You Can Be More Body Positive For Your Son, So He Can Love His Body & Respect Women's Bodies
It's difficult to remain (or even become) body positive after you've had a baby and lived through 10 months of constant physical change. Perhaps you don't recognize your body or feel at home in your body, or you're coping with the lasting marks that all that stretching and contracting have left behind. Either way, being body positive for your child, regardless of gender, can be a challenge. It is not, however, impossible, and it's important to highlight the necessity of body positivity not just for our daughters, but for our sons as well.
I'm a mother to an 18-month-old son, and I'm already carrying with me a heightened sense of awareness when it comes to body positivity, and how I may authentically highlight and promote it around my kid. Of course, right now, he cannot comprehend the concept, a fact made extremely blatant in how my son carries himself. He walks with his belly stuck out, proudly and comfortably, not sucked in; He runs with his arms stretched sharply behind him, free and uncoordinated; He doesn't worry about the size of his muscles or if he is fulfilling some fictitious societal standard of masculinity. He is free to express himself and use his body however he wants, running and playing and flailing about without a single ounce of self-consciousness or a feeling of inadequacy.
It is beautiful to see, and it is something I want my son to hold onto for as long as humanly possible.
It is also something that I can assist my son in continuing to carry with him, even though our bodies (and the pressures and standards placed on them) are different. Here are a few ways that we, as mothers, can be body positive for our sons, because loving yourself knows no label, identification or man-made category.