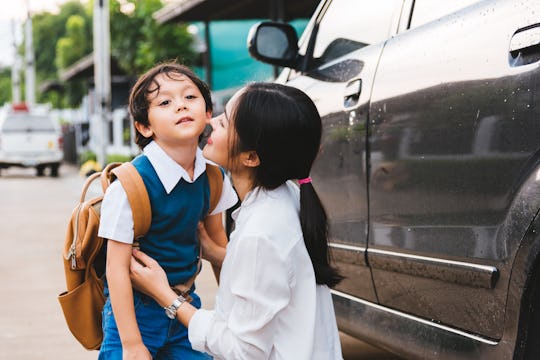 Shutterstock
These 14 Tips From A Camp Counselor Will Make You *All* The Mom Friends At Drop-Off
Does making friends ever get easier? Sometimes, I think that it doesn't. Just because we're in throes of mommyhood doesn't mean that finding a friend is any less of a challenge than it was when we were in high school. There aren't a whole lot of opportunities to connect with other mamas, anyway: We're always rushing to chauffeur kids to their activities, cruising through the supermarket, and flying back home. So if you want to establish a connection, your best bet might be to find ways to make friends with moms at drop-off.
Every time I have to go to drop-off, it feels like the first day of school — for me. I find myself shuffling my feet and looking down, because I don't always know what to say. Some moms are glued to their phones, which doesn't exactly allow for organic conversations. That's why you're going to have to put on a brave face and have some conversation starters ready to roll.
I've found that asking questions, offering sincere compliments towards the mom and/or the kids, and being self-effacing are surefire ways to strike up an organic chat. After all, in lieu of having any intel on her, you're going to have to fall back on the tried and true topics any mom can always rely on: crazy kids and the insanity of parenting. Still not sure what to say to a prospective mom friend? A representative from the American Camp Association (who wishes to remain unnamed) tells Romper the ice breakers you can use to strike up some mom-versations that just might lead to a new mom-lationship.