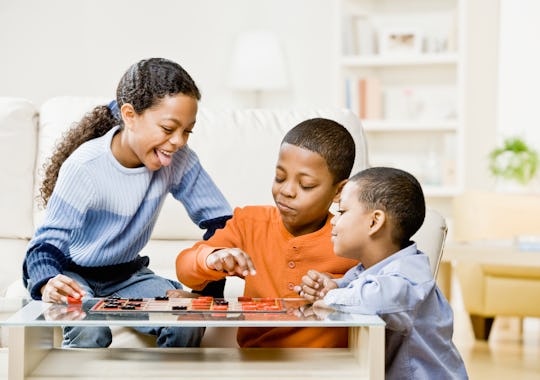 Andersen Ross Photography Inc/DigitalVision/Getty Images
15 Not-Too-Competitive Games To Play With Your Family While On Lockdown
If you're in for the night (or week), it might be time to invest in some new games you can play as a family. Not all games are created equal, though, so depending on the type of night you want to have, choose wisely. Some family games bring out competitive sides and petty disputes. These 15 family-friendly board games are just competitive enough to keep families entertained minus the drama.
Many games have both winners and losers, but games that are too competitive are more likely to ruffle some feathers than less competitive options. Obviously, that means Monopoly is out of the question. Monopoly game boards getting flipped over in fits of rage, sending faux money and tiny plastic hotel pieces flying through the air — not exactly my idea of fun.
Another source of frustration for families playing games together? Choosing a game that's too hard for younger kids. Games that require quick reflexes or an immense amount of strategy can make little ones super frustrated if they are outwitted or their older siblings are faster. Don't underestimate the fury of an angry 4-year-old. You won't want to be stuck at home with that if you can help it. Instead, go with these 15 games to keep family fun days drama free.