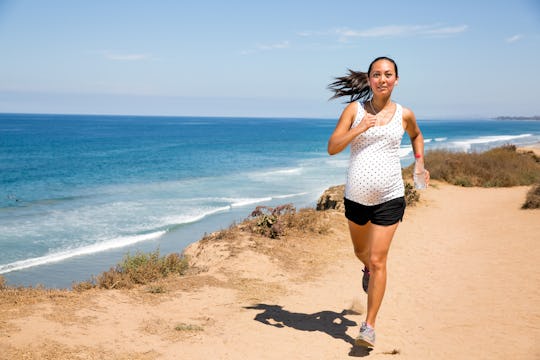 AMR Image/E+/Getty Images
Here Are 15 Pairs Of Cute, Comfy Maternity Shorts You'll Wear 24/7
Oh the joys of being pregnant in the summer. As if having a human bowling ball wedged against your bladder weren't hard enough, add in heat and humidity. As your body becomes more and more unrecognizable, the trials of procuring fashionable and comfortable clothing for the hottest months of the year is all the more complex. But here's a secret: All you really need are a few pairs of the best maternity shorts to get you through those sweltering times (and luckily, there are lots out there).
Sure, you could arm yourself with a series of ever-expanding sundresses, but sometimes you want a little more coverage. You know, a garment that won't expose your undies when you have to bend down to, say, put on your shoes that you can no longer see because of this enormous bump obscuring your view. That's where maternity shorts come in. When designed well, these life-saving pieces of clothing can cool you down while covering up your bits.
We pulled together a list of arguably cute shorts that have all the things a mama could want — comfortable belly panels, soft fabrics, attractive designs. Essentially, the creme de la creme of short pants, as my grandmother used to call them. And better yet? Quite a few of these must-haves are on sale. Get them while they're (or should I say you're) hot.
We only include products that have been independently selected by Romper's editorial team. However, we may receive a portion of sales if you purchase a product through a link in this article.