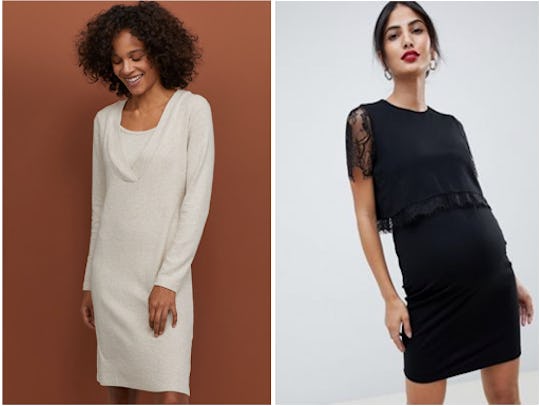 H&M/ASOS
These Valentine's Day Dresses Are *So* Easy To Wear For Breastfeeding Moms
Valentine's Day is coming up, and no one deserves a night on the town to celebrate more than a breastfeeding mom. Finding a babysitter and getting all dolled up for the evening just might be the perfect remedy for the exhausting, largely unglamorous routine of nursing a little one day and night. But even when a breastfeeding mom does take a few hours off, she's still gotta make sure her outfit works for pumping on the go or squeezing in a quick feed before she heads out the door. Luckily, there are tons of breastfeeding dresses for Valentine's Day that are as pretty as they are practical.
You definitely don't have to sacrifice style to find a dress that will work for nursing or pumping. There are tons of options that are so well designed, no one will be able to tell that they have hidden features like side slits or hidden panels. You won't have to worry about comfort, either — because many nursing dresses double as maternity dresses, they'll be plenty forgiving if you indulge in a delicious Valentine's dinner or decadent dessert.
Here are 15 stunning dresses that will look amazing on V-Day, or any day of the year.