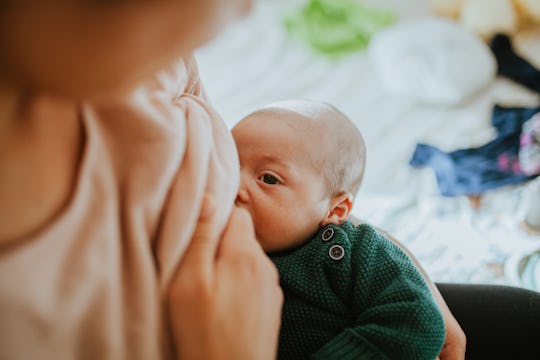 Paulo Sousa / EyeEm / Getty
15 Instagram Captions For Breastfeeding Awareness Month To Celebrate Your Bond
Honoring the special bond you share with your baby is something that every mom — no matter how they feed their kids — may want to do on the regular. For breastfeeding moms, this might mean posting a photo throughout August with an Instagram caption for Breastfeeding Awareness Month.
When it comes to breastfeeding awareness, the month of August has been long-hailed as the time to promote supporting the efforts of breastfeeding moms everywhere. The National Perinatal Association stated on their website that this month is a time to "recognize and honor everyone who does their best to give our babies what they need."
For moms who choose to breastfeed, when the ability to celebrate that decision presents itself, it is totally acceptable to go all out. Maybe you have to pump or supplement to make it work and you want to share all of those details to support other breastfeeding mamas. Or perhaps you just want to show the world that you're proud of your body's ability to provide nutrition for your baby. Either way, when you want to post on social media about breastfeeding, you might need some inspiration, and these Instagram captions for Breastfeeding Awareness Month are perfect for that.