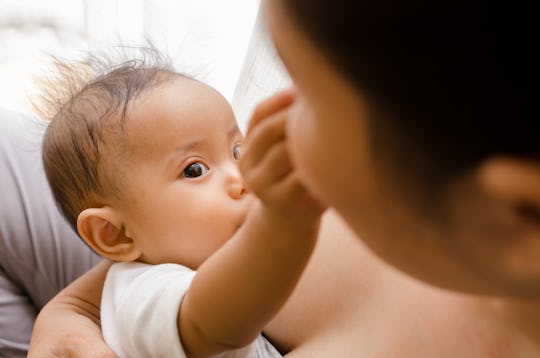 Shutterstock
These Sentimental Instagram Captions About Breastfeeding Are So Sweet & Snuggly
For moms who choose to breastfeed and who can successfully do so (either exclusively or with supplementation), those hours of nursing can be a tender and beautiful experience. If you've thought about sharing your support for nursing with a pic on social media, try using one of these sentimental Instagram captions about breastfeeding to go with it. It might just help inspire a tired fellow mother, or raise your friends' awareness of breastfeeding as a global health issue.
With World Breastfeeding Week being observed from August 1-7, according to National Day Calendar, this is the perfect opportunity for breastfeeding moms (both present and past) to show their support for their fellow mothers by giving a social media shout-out. The awareness week is an initiative by the World Alliance for Breastfeeding Action, a worldwide collective of organizations and individuals devoted to the support of breastfeeding. Their goal is to raise awareness of and support for breastfeeding across the globe, especially in low-income areas where food security is an issue. According to UNICEF, more than 800,000 children's lives could be saved through early breastfeeding. Putting a baby on the breast within an hour of birth can literally mean the difference between life and death in some areas of the world.
Got a photo of yourself and your baby enjoying a contented moment mid-feed? Show it proudly on your Instagram and Twitter feeds, along with one of these sweet quotes. Add the hashtag #WBW2019 to show your support for nursing moms everywhere.