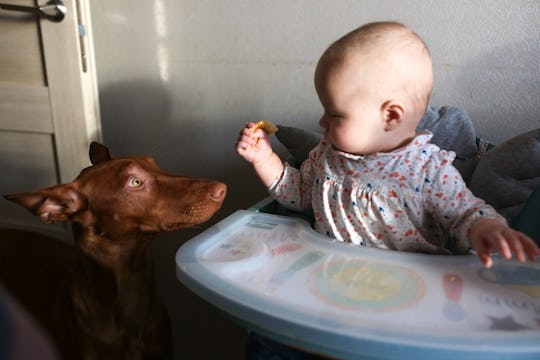 Shutterstock
These 15 Instagram Captions Are Ideal For Your Adorable Dog & Baby Bonding Pics
Peanut butter and jelly, Kristen Bell and Dax Shepard, babies and dogs — some things just go together. And if your new baby and your fur baby are in puppy love, you'd better share pics! You'll need some sweet Instagram captions for dog and baby bonding pictures to post, but fear not, the #inspo is right here.
To build up to cute photo ops and cuddle sessions between your new baby and your doggo, it's important for parents to start preparing dogs for baby's arrival a few weeks before birth, according to the American Kennel Club (AKC). Making changes to the pup's routine early on, like when they get walked or where they sleep, ensures they're well-adjusted before the baby comes home, and they won't associate those changes with the baby. Also, let your dog get used to the sounds, smells, and movements of their new little person from a distance before letting them meet up close and personal.
Once your little one is crawling about, make sure to never leave your baby alone with your puppy, the AKC warned, and make sure your dog has a safe place just for them to retreat to if they need a break. A crate, bed, or gated room all work well as doggy safe havens.
If parents have carefully introduced their human and fur babies, they should become fast friends, and while you're supervising their bonding time, be sure to snap some pics.