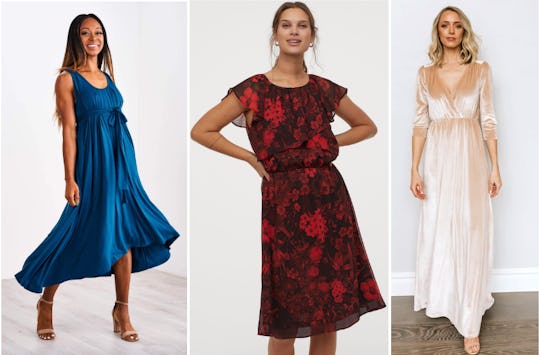 Latched Mama, H&M, Baltic Born
15 Cute New Year's Eve Dresses You Can Comfortably Breastfeed In
Getting an invite to a New Year's Eve party is always exciting — that is, until you realize that you have nothing to put on this postpartum, breastfeeding body. After all, if you're nursing, you might not have a dress you can don that will give you the much-needed breast access that your baby (or your breast pump) requires. But the options below can help you if you're looking for New Year's Eve nursing dresses you can breastfeed in, because engorged boobs is not the way you want to welcome 2020.
And if you're thinking about not going out on New Year's Eve because you're nursing, think again. Sometimes getting out can be just the thing to clear your mind, allow you to have adult conversation and feel like a human (and, you know, not a milk machine). And that's especially the case on December 31, when you can start making your plans for the upcoming year, and breathe in all the hope and promise that the New Year offers.
So let your sparkle shine in one of these New Year's Eve dresses, even if you are feeling tired, leaky, and would prefer to be in bed by midnight (or well before). Because once you put on a fantastic frock, might be glad you decided to go out after all.