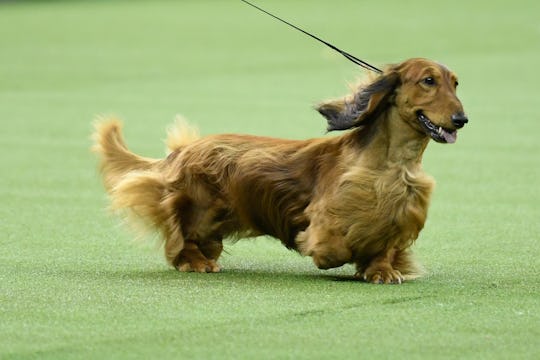 Sarah Stier/Getty Images News/Getty Images
These Old-Fashioned Dog Names Are Way Better For Fur Babies Than Actual Kids
When you're welcoming a new dog into the family, one of the biggest decisions you have to make (after choosing the dog itself) is selecting just the right name. Some families know right away what they want to call their fur baby, while others are less certain. For the folks on the fence, you can't go wrong with an old-fashioned dog name that's both classic and memorable.
Some bygone names have zoomed back into popularity among parents looking to make their babies stand out among the crowd. Witness the Social Security Administration list of top baby names of the 2010s, which includes such turn-of-the-century choices as Caleb, Lydia, Ezekiel, Clara, Calvin, and Eliza. But some of the names that were common in our our grand- and great-grandparents' day still don't translate well to 21st-century children. Not so for dogs. In fact, the quainter and more retro the name, the more adorable it is.
Why does this trend work? Baby Name Wizard's Laura Wattenberg has a theory she shared with the website Quartzy. Dog owners are more likely now to consider their pets as children, so it's only logical that more dogs are being given human names. And old-fashioned names are considered "warmer" than contemporary ones, added Wattenberg, which makes them ideal for a pet that's valued for its unconditional love.
These are just a few of the fun older names out there that suit a Labrador Retriever or Dachshund just as well as — or even better than — a newborn child. Try them out for size and see if they don't make you smile.