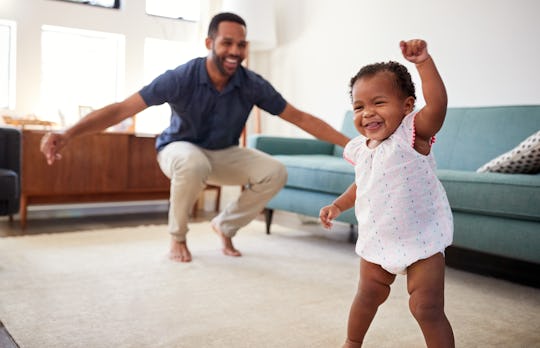 Shutterstock
15 Products For When Babies Start Walking That Make Life So Much Easier
Once a baby takes their first steps and gets a taste of that independence, it's unlikely they'll want to sit down any time soon. With all the new exploration (and safety hazards) there are some products for when baby starts walking that are worth the investment. This new mobility opens up a whole new world of toys, fashion, and, unfortunately, bumps and bruises.
In those early days of walking, babies are often so excited by their new skill that they're completely unaware of their limits. Pediatrician Whitney Casares, M.D. tells Romper that during this time parents are tasked with finding the balance between "ensuring safety and promoting mobility." It's a hard line to walk, but parents can equip themselves with products that will make this a little easier. "This is the moment to focus on purchasing babyproofing and safety equipment like door latches, baby gates, and furniture wall straps if you haven't already," Dr. Casares adds, and "research[ing] ways to help your little one get around easily."
Being proactive about safety and setting limits now will also help as your baby transitions into the toddler stage, which is full of big emotions and the desire to really assert independence. "When moms and dads proactively remove potential hazards and focus on purchasing and installing safety-proofing equipment ahead of time... the toddler stage can be less frustrating and more enjoyable," Dr. Casares says, because they won't find themselves "constantly saying 'no' or needing to quickly intervene to help their children avoid dangerous situations."
Even though the transition to walking can be scary, it can also be a lot of fun! Here are some product ideas to help you find that balance between keeping your little one safe and encouraging their new skill.