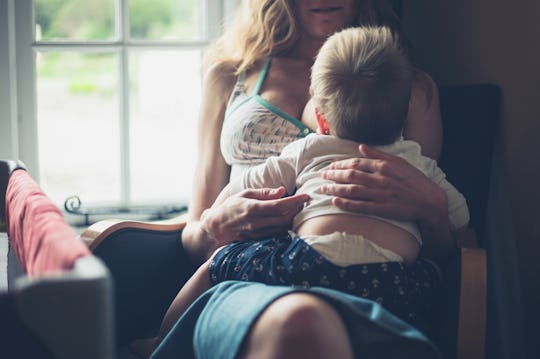 LoloStock/Fotolia
15 Responses To The Question, "Why Are You Still Breastfeeding?"
Any way you choose to feed your baby is, very likely, going to be the subject of some controversy. And even within the dichotomy of "breastfeeding versus bottle feeding" there's going to be people with particular opinions. You know, the "breastfeed but only so long as I'm comfortable with it" crowd. Other, less annoying people will not have much exposure to breastfeeding at all and might have some legitimate questions for you. So I've come up to some responses to the question, "Why are you still breastfeeding?' of varying seriousness (and saltiness, because sometimes a little saltiness is not only advisable but absolutely required).
Look, it's totally fine if you're not comfortable with breastfeeding. People have their reasons. I'm on record as saying that I'm somewhat uncomfortable about people nursing school-aged children. But what's not OK is trying to make people feel embarrassed or uncomfortable about their own decisions that have literally nothing whatsoever to do with you. Unless someone is trying to force you to breastfeed when you don't want to (on either end of the equation) you don't have a say in when, where, or whether it goes down.
So the next time someone confronts you with the question, feel free to quip back with any of the following: