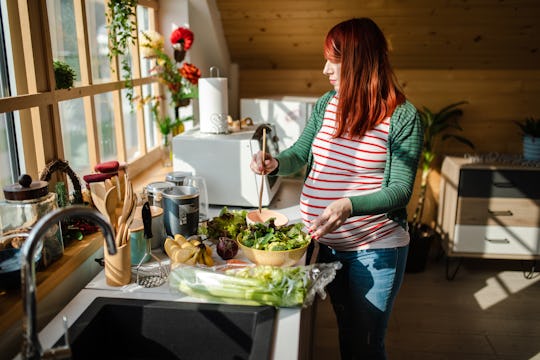 Kosamtu/Getty Images
You Can Prep These 15 Sheet Pan Dinner Recipes In Just 10 Minutes On A School Night
We all know that sinking feeling you get when you've raced through yet another day of work and school only to find that it's somehow 6:30 p.m., the kids are getting hangry, and you need a solution ASAP. What's a worn-out mom to do? Sheet pan dinners are the way to go, especially if you can prep them in 10 minutes or less.
All of the following recipes promise that prep happens in a snap. Now, we know everyone slices and dices at different speeds, but based on our own review, you'll still get your evening meal prep done in that 10 minute window. To really speed up getting dinner on the plate, consider pre-chopping the night before or setting out shelf stable ingredients on the counter before starting the day — trust me, learning the art of mise en place will save you boatloads of time and prevent the dreaded pre-meal panic attack.
Another good idea when you're competing against the clock to get the family fed and washed up before bed is to get your kids involved. Maybe cutting up carrots is beyond their skillset, but you can have them set the table. With that one task out of the way, you'll be that much closer to dinner time and your child will gain a sense of purpose in the daily act of breaking bread together as a family.