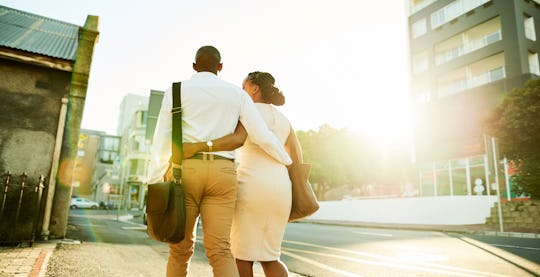 AJ_Watt/E+/Getty Images
15 Signs Your Marriage Will Survive Infidelity
When a spouse strays, both parties in the relationship are likely to feel like their world has been shattered. An affair — whether emotional, physical, or any other variation on "cheating" — is a betrayal to your relationship. But that doesn't necessarily have to lead to divorce. If you're not sure which way you and your partner are headed, there are certain signs your marriage will survive infidelity, according to experts.
"Infidelity can often be a sign that the relationship was in trouble, but it doesn't have to be a deal breaker," relationship expert Beth Sonnenberg, LCSW, tells Romper. "If the couple is motivated to change things and realize that their love and history are too strong to give up on it, these can be signs that a new and improved relationship can be possible."
That's all fine and good, but right about now, you're probably feeling pretty raw. If someone asked you before what you would do if your partner cheated on you, you might have thought that you'd kick them to the curb without a second thought. It's a different story when you're actually posed with that question in real life. The hurt might never completely go away, but challenges like infidelity can be an opportunity to work on your marriage and make it stronger. The following signs could mean that your relationship will survive — and even thrive.
This article was originally published on