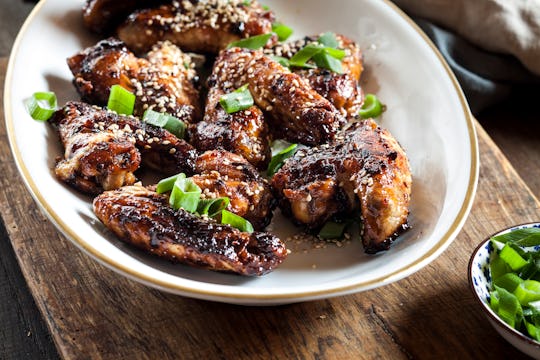 Susan Brooks-Dammann/Stocksy
No, Really: People Will Actually Love These Healthy Super Bowl Recipes
Most people seem to fall into two camps when it comes to the Super Bowl. It's either all about the football, or it's all about the commercials. I however, am in a third camp, because my favorite thing about any Super Bowl party is inevitably the food. My family usually serves up everything from pizza to wings to chips and dip, but since I'm not an Olympic swimmer, I can't indulge in thousands of extra calories in the span of a few hours just because everything is delicious. Luckily though, there are tons of healthy Super Bowl recipes that give you lower calorie, lower carb options to chow down on without feeling like you're missing out.
Super Bowl food usually tends to be fried, breaded, covered in cheese, or sometimes all three (which sounds amazing, to be honest). Your typical party spread has nary a vegetable in sight, unless you count the sad stalks of celery that sometimes accompany a platter of hot wings. But there are plenty of easy ways to get some veggies in there, and alternative ways to prepare your dishes that don't include a vat of oil.
Here are 15 awesome, healthy options to add to your Super Bowl menu.