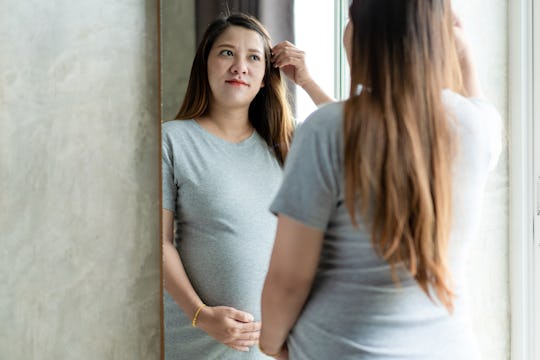 Shutterstock
15 Weird Pregnancy Symptoms, From Acne To Nosebleeds & More (Sorry)
When you're pregnant, you know that your body is going to change. I mean, it has to — you're growing a human, for goodness sake. But beyond a burgeoning belly, there are some really weird pregnancy symptoms you might experience that no one tells you about. Why? Maybe it's because we all want to portray a picture-perfect pregnancy, even though the reality might be far from Pinterest-worthy.
Having gone through four pregnancies, I can tell you that a) not one of them was similar to the other, b) each one came with its own set of joys and hardships, and c) each and every one of them was totally worth it — stretch marks and all. But since knowledge is power, you should know what could potentially be in store for you during those nine months (actually ten if you're really counting). While some of these symptoms are simply annoying and will go away after a trimester or two, or even after your baby has been born, others might warrant a call or a trip to your OB/GYN… just to be on the safe side.
Above all, never be afraid or embarrassed to mention any weird pregnancy symptoms to your doctor. After the birth of my son, I swore that everyone sounded like robots. Crazy, right? I thought I had lost my mind, (or hello, some unusual form of postpartum depression), but my mom made me call my OB to see what was wrong. As it turns out, I had a massive ear infection (I'd never had one before), and that's why everyone sounded like R2-D2. So if anything ever seems alarming and you're afraid to speak up, let me be the first to say: your doctor has heard it all already. Check out these weird pregnancy symptoms and laugh at the way pregnancy can be weird — and wonderful — all at the same time.