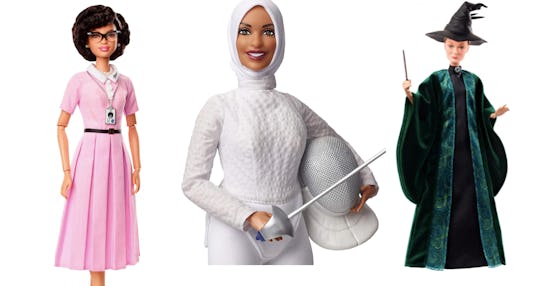 These 15 Feminist Barbies Are The Perfect Way To Celebrate Women's History Month
People have a lot of ~feels~ about Barbies, especially when it comes to Barbie's appearance and how it could potentially make young girls feel. Tall, white, thin, blonde — all words you can use to describe the "traditional" Barbie doll. But you don't have to ignore the toy if you're hoping to empower your own kids. Feminist Barbies for Women's History Month exist, and they are just as lovely and inspiring as you'd hope they be.
Of course, most of these Barbies are made specifically to honor a historical female figure, but that doesn't make their message any less important. Whether your children prop these Barbies up on their shelves to admire or act out entire scenes from Hidden Figures with their favorite dolls, they're sure to inspire your little one and remind them that women can do it all. This Women's History Month, pick one (or two) to gift your child, and share the story of a woman the Barbie represents. Even the "generic" feminist Barbies, like the scientist one, can be pegged to a real icon. (Marie Curie, anyone?) Adding a rotation like this into your little one's toy collection will remind them daily that they can break through any glass ceiling if they soar high enough.