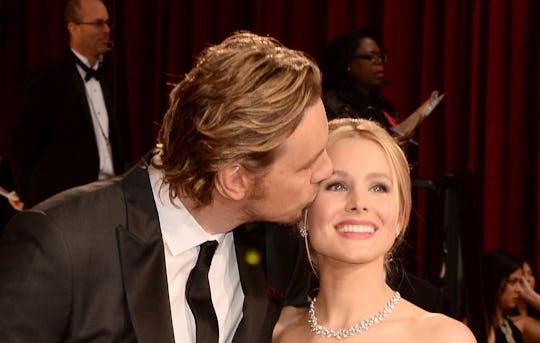 Frazer Harrison/Getty Images Entertainment/Getty Images
16 Celebrity Couples Who Had A Baby Together Before They Tied The Knot
First comes love, then comes baby carriage, then comes marriage? Pretty sure that old rhyme doesn't describe as many families as it used to, and that could be thanks to pop culture. Today, plenty of people start happy families before heading down the aisle. Your favorite stars are no exception — there are tons of celebrities who had babies before marriage.
Hanna Grol-Prokopczyk, assistant professor of sociology at the University at Buffalo, noticed this trend while pregnant herself. She began a study of People magazine covers, and she found that celebs getting pregnant before tying the knot has helped break down the stigma around starting a family before getting married. Goldie Hawn was among the first famous women to do so in the '70s, and by the mid-2000s, magazine covers featured celebrity moms-to-be without their partners or husbands all the time.
Her data found that from then on, it became more common for celebrities to but children before marriage, and more importantly, they didn't apologize for it. Today, it's hardly noticeable when celebrity couples become parens before becoming spouses, but it's quite common. These 24 celeb duos all welcomed their child, or even multiple children, before heading on to wedded bliss.