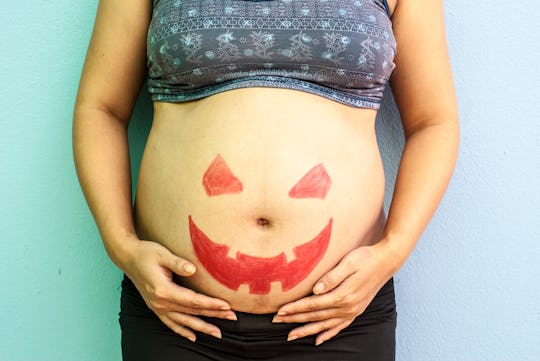 Shutterstock
You'll Actually Love Wearing These 16 Comfy Maternity Halloween Costumes
Being pregnant for Halloween opens up a slew of creative costume choices, but you probably aren't in the mood to be anywhere near tulle, scratchy lace, or high heels. Comfortable maternity costumes reign supreme, and lucky for you, there are plenty of options out there.
Plus, if you don't want to shell out a ton of money for an outfit you'll likely only wear once, then there are ways to wear your own stretchy, breathable clothes (hello maternity leggings and loose dresses) and DIY your way into a fun costume. You can add two circles to a red dress and instantly become Dr. Seuss characters "Thing 1 and Thing 2" (seen below), or you could take a cue from Jessica Alba and go as Juno from the hit 2007 movie, as reported by Entertainment Tonight. There's always the good old Magic 8-Ball idea (per Good Housekeeping), which requires nothing but an all black ensemble and a hand-drawn number 8. You got this, in other words.
Folks, fear not; there are fleece animal onesies, jersey-knit tees, and spandex… everything can pass as a costume. Don't for one second think you have to forego dressing up this year, even if you said yes to a costume party before you knew you'd be trick-or-treating for two. The costumes below are cute, creative, and most of all, comfy as can be.