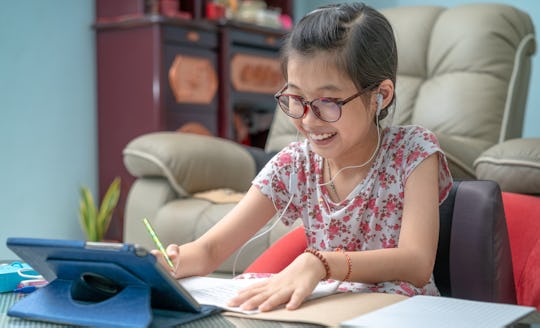 Shelyna Long/E+/Getty Images
Strengthen Your Child's Skills With These 16 Free Online Reading Courses
I am all the way here for screen time that is not only interactive and entertaining, but will also help teach my kids something useful. Basically any kind of free online reading course with a mix of games, educational lesson plans, and read-aloud stories fits the bill. I mean, who says you can't keep your kids engaged (and out of your hair) while learning a crucial skill set?
Although both of my kids love reading now, that wasn't always the case. When my oldest first started school, he had zero interest in learning how to read. He knew his letters, but putting sounds together was a struggle. As an avid reader, I was severely disheartened by his reluctance to try and learn how, so I scrambled to help make the activity as fun for him as possible. Truly, without the help of free online reading programs and resources, I'm not sure he would be the little bookworm he is today at nearly 8 years old.
If your kid already has a tablet glued to their hands, why not take the opportunity to make it educational? These 16 free online reading courses are perfect to help your child excel when it comes to phonetic awareness and reading comprehension. Plus, they're fun, and if they happen to develop a passion for reading along the way, they'll be set up for a lifetime of success.