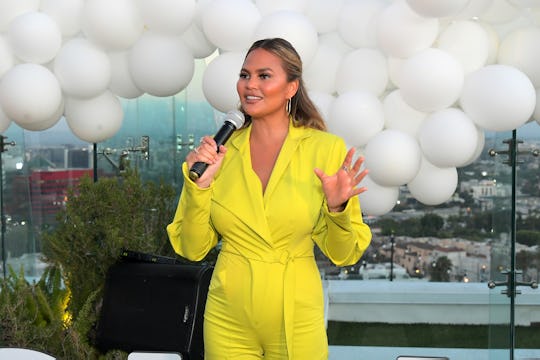 Charley Gallay/Getty Images Entertainment/Getty Images
You Need These 16 Hilarious Celebrity Quotes About Motherhood On Hand At All Times
Celebrities — they're just like us! They swell like balloons during pregnancy, wear diapers home from the hospital, and hide from their children in the bathroom. If you're locked in the pantry for five minutes of quiet time right now, here are 16 funny celebrity quotes about motherhood to make you feel like you're not alone.
The most relatable celeb mom of all? Cookbook author, TV host, and model Chrissy Patron-Saint-Of-Mothers Teigen. Chrissy Teigen has always been one of the most real, relatable celebs on Twitter, so it makes sense that when she and John Legend brought home baby Luna, she'd let us know her honest thoughts. True to form, she did not disappoint — from pregnancy hormones and adult diapers to the difficulties of breastfeeding and dealing with mommy shamers, she tweeted about it all.
She even went on to share her personal experience with postpartum depression and anxiety in an essay for Glamour, describing how no one in her life had ever said to her they had PPD, and that perhaps by saying she had gone through it, others would recognize it in themselves sooner. In 2018, Teigen and Legend would add son Miles to the family, and Chrissy would return to her regularly scheduled (and hilarious) tweets on motherhood. And she's not the only celeb mom to go on the record with something hilarious about her motherhood experience.