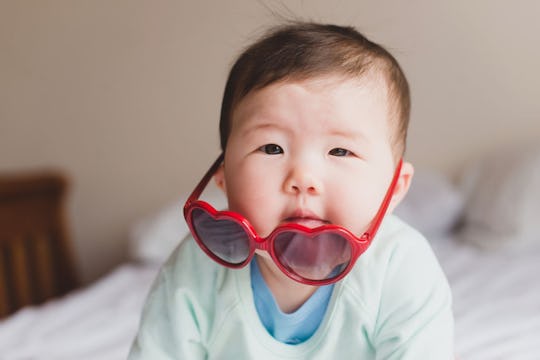 Lauren Naefe/Stocksy
16 Galentine's Day-Inspired Baby Names For Your Little Feminist-In-Training
For such a short month, February is packed with lots of reasons to celebrate: Groundhog Day, Presidents Day, Valentine's Day, Leap Day, and perhaps best of all, Galentine's Day. This recent addition may not be part of the calendar yet, but we still honor it by showing love and appreciation to the girlfriends who are always there for us. Celebrants who also happen to be expecting around this time would do well to give their child a Galentine's Day baby name that reflects the awesomeness of this special day.
The Galentine's Day tradition is one that dates allll the way back to...um...nine years ago, on a now-classic episode of Parks & Recreation. As explained on IMDb and other sources, the show featured Leslie Knope creating a February 13 holiday specifically to show love to her best gal pals. In the words of Leslie Knope (as quoted in The Atlantic): "Every February 13, my ladyfriends and I leave our husbands and our boyfriends at home, and we just come and kick it, breakfast-style. Ladies celebrating ladies. It's like Lilith Fair, minus the angst. Plus frittatas."
When it comes to naming children, we have no problem taking inspiration from occupations (Taylor, Cooper), flowers (Rose, Violet), locations (Brooklyn, Cheyenne), virtues (Grace, Serenity), and other sources. Giving your baby a name inspired by the beauty of sisterhood and girlfriends is just as legitimate and powerful as any of the others. Better still, it acts as a constant reminder that we need the support and understanding of our female friends more than ever once we become mothers. With all of that in mind, here are some suggestions for Galentine's Day-themed baby names. They're particularly fitting for February 13 births, but they're so good that they work for children born all year round.