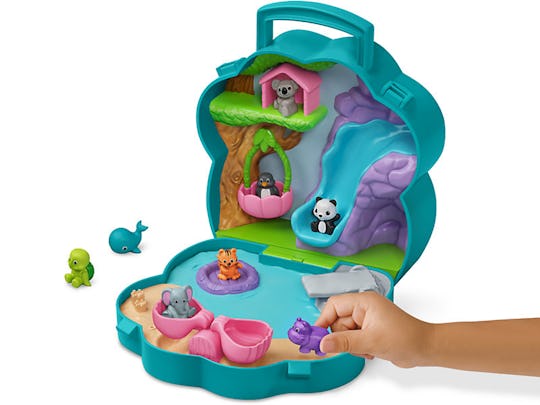 Lakeshore Learning
These 16 Playsets Will Keep Your Bored, Crabby Kid Occupied For Hours
Whether you're working from home, have a million chores to do around the house, or just desperately need a break, sometimes you need to find something to entertain your kid for a chunk of time. Once you've exhausted all the Blues Clues episodes and taken a glue stick to every scrap of construction paper in the house, you might find yourself scratching your head. Now what? One word: playsets. The best playsets will keep your kids occupied for hours, and all without the use of a screen.
What exactly is a playset? We're talking about a toy structure, usually including smaller components, that kids can play with indoors (or maybe even outdoors, if they really wanted to). The structure can be anything, really... a race track, a collapsible castle, a carry-and-go farm. Those smaller pieces are made to exist within that specific world, of course (little cars, king and queen figures, miniature farm animals). Basically, a playset is a miniature world kids can escape into so that you can actually get a little work done, mow the lawn, or do a few dishes. The coolest ones can be packed up and stored after use, for optimum fun and clean up.
We only include products that have been independently selected by Romper's editorial team. However, we may receive a portion of sales if you purchase a product through a link in this article.