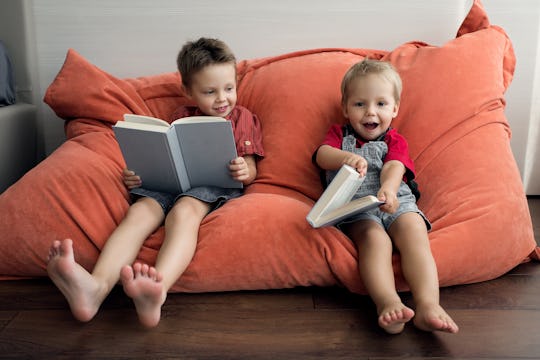 Shutterstock
These 17 Children's Books About Brothers Will Make Sibling Storytime Super Sweet
Older, younger, or twin; hero, tormentor, or pest, brothers are for life. Other than sisters, they're our closest relatives, and they're a part of our history we can't escape (not that we'd want to). The special bond has been immortalized over the years in children's books about brothers that are a must-read for any child who has a male sibling or is about to become one. These books put into words this unique relationship between two, three, or more brothers, not to mention the often-conflicting feelings that crop up on a daily basis.
There are so many books out there about becoming a big brother that they could have taken up a post of their own. The best ones lay out the situation simply, illustrating the brother's growth and explaining the importance of their new role. Then there are titles that show brother vs. brother rivalry in all its messy glory — but always end with the brothers becoming friends (or at least calling a truce) again. If you're looking for heartwarming tales, they're out there, too, in the form of Little Critter, Charlie & Mouse, and more.
In time, your kids will grow to appreciate classic books about brothers for older readres, like The Outsiders, Stick, and even The Brothers Karamazov. Until then, enjoy the ones on this list, and prepare for multiple readings.