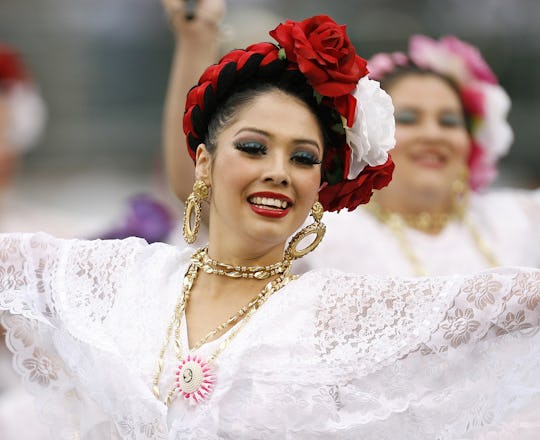 Robert B. Stanton/Getty Images Sport/Getty Images
Show Your Pride With These 17 Instagram Quotes For Hispanic Heritage Month
If you're rightfully proud of your Hispanic or Latinx roots, then this is a perfect time to let the world know about it. Posting a quote for Hispanic Heritage Month on your social media feed will enlighten those followers who aren't yet aware of the event, and show your solidarity with the greater Hispanic community.
Hispanic Heritage Month runs from September 15 to October 15 every year. The event actually began as a week-long celebration in 1968 under President Johnson. Twenty years later, President Reagan expanded the honor to the full four weeks. Its purpose is to recognize the contributions of Americans whose families of origin come from Spain, Mexico, Central and South America, and the Caribbean. (There actually is a difference between the terms "Hispanic" and "Latino," according to HuffPost. "Hispanic" refers to people from Spanish-speaking countries, while "Latino/a" or "Latinx" refers to anyone from Latin American countries, not all of which speak Spanish.)
The 2019 theme for Hispanic Heritage Month is "Hispanic Americans: A History of Serving Our Nation," as reported by the Hispanic Heritage Month website. The theme serves as a reminder of the many Hispanic and Latinx Americans who have contributed to American history, progress, and pride: politicians, scientists, activists, entertainers, astronauts, writers, and more.
Now, perhaps more than ever, it's important to support the Hispanic and Latinx communities and remind the world at large that they are a vital part of our country's past, present, and future. Here are some quotes to choose from for your feed. Celebrate!