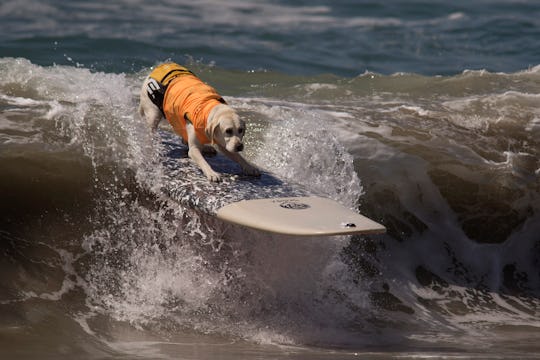 David McNew/Getty Images News/Getty Images
These 17 Names For June Dogs Capture The Spirit Of Summer
Early summer is a great time to bring a new dog into your life. The weather is pleasant enough for long walks; you can plan trips to the beach, lake, or mountains with your new companion in mind; you can even give your pet a bath outdoors if it gets too grubby. As you and your family debate what to call your new fur baby, think about names that work for June dogs — and that can refer either to a birth or an adoption date.
Of course, you could always go with one of the trendy dog names of the past year. There's absolutely nothing wrong with calling your new pal Max, Bella, Charlie, Jack, Luna, Cooper, or Lucy. But if you're looking to stray from the tried-and-true, you could look for names that pay tribute in some way to the time of year your dog entered your life. After all, don't we lean toward names like Spooky and Phantom at Halloween, or Cupid, Valentine, and Love as names for pets born in February?
Besides, there are such great June-related options to choose from for a new summer pet. Some honor the month itself, while others give a nod to June events, and still others are a tribute to the start of the new season. For a fur friend who's destined to bring sunshine and warmth into your life, it would only be fitting.