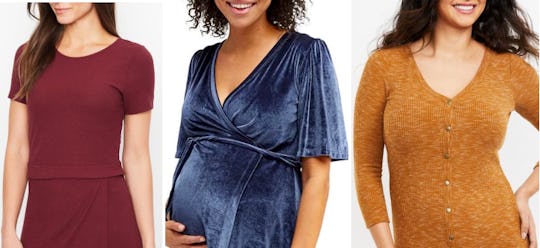 A Pea In The Pod, Nordstrom
17 Cute Holiday Dresses You Can Breastfeed In, Because Priorities
Whether it's being thrown by your family, friends, or your boss, you probably got invited to a holiday party or two this year. Thing is, you're nursing, so you're going to need to wear a dress that lets you look beautiful but gives you access to your boobs, too. These nursing dresses you can breastfeed in at holiday parties will give you that sparkle and shine while allowing you to feed your baby.
If you plan on nursing or pumping at a holiday shindig and think you can make your non-nursing dress work, think again. Oftentimes trying to breastfeed in a dress that isn't designed with nursing in mind is not going to make the experience easy. In most cases, you'll probably have to pull your dress way down (or take the whole thing off) in order to get to your girls. And that, my friends, is going to put you in a foul mood. Nursing dressing, on the other hand, usually have discreet side zippers or hidden panels to give baby access to your breasts without having to expose the entire top half of your body, and is oftentimes made of soft and malleable fabric.
So if you're bringing your babe (or your pump) with you to a holiday party this year, these pretty nursing dresses will keep your baby fed, and allow you to be stylish, too.