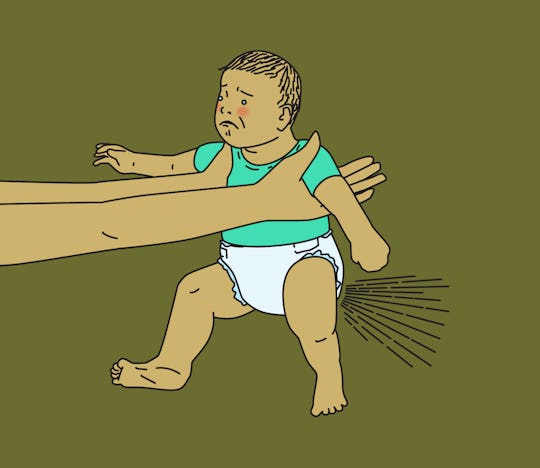 Allison Gore/Romper
17 Things Your Nanny Desperately Wants You To Know
Throughout college and after graduation, I spent years working as a nanny for a few different families, and because of these experiences and all of the truer than true nanny issues I faced, I like to think that I have seen it all when it comes to raising (other people's) kids. First, I worked for a family with four girls whose ages ranged from 10 to 15 at the time I started. They taught me that a bedroom floor could still be littered with strewn about clothes, even with a bulging dresser and full closet.
And with every family I worked for (and every family that every other nanny I know has worked for), the parents just couldn't believe that their kids could be the unbearable jerks they sometimes were (because all kids are, even my own). So yeah, for awhile, working as a nanny doubled as some pretty sweet birth control. And just like the awesome parents I worked for taught me not only little bits of who I might want to be as a mom someday, they also demonstrated for me the best ways to deal with a household employee (which isn't something I ever really thought I'd need to know, but every day is a winding road, and who knows?) That said, some of the parents I worked for also taught me everything I wouldn't do once I became a parent myself, if ever had a caregiver in my home. It's like if you get a job in retail and are suddenly way more aware of the way people leave clothes hanging off the hangers in Target.
Working as a nanny also taught me that's it's totally OK to use a bathroom as a cry-it-out retreat for yourself when you're just a little too frustrated with the sticky countertops, full double sink, and piles of laundry that greet you when you arrive at work. As it turns out, this is an important thing to know when you're a parent too.
Mostly when I was a nanny, I saw a lot of parents who didn't really know what the rules were for having a nanny. I don't think they were intentionally trying to make my life worse; they just accidentally did, in little ways, all the time. The types of nanny issues I've seen probably seem like minuscule ones, from the necessity of extra gas money to having to stay unexpectedly late sometimes. But believe me, when you put them all together, and add in the sheer nonchalance of the people you're working for, these nanny issues become so much more.
Depending on how you treat your nanny, they could either love you like family or resent everything about you but the paycheck. Mostly, this is the sort of stuff your nanny wants you to know, even if they'll never tell you. So fine! Taking one for the nanny team! Here's what we all wish the parents we worked for knew: