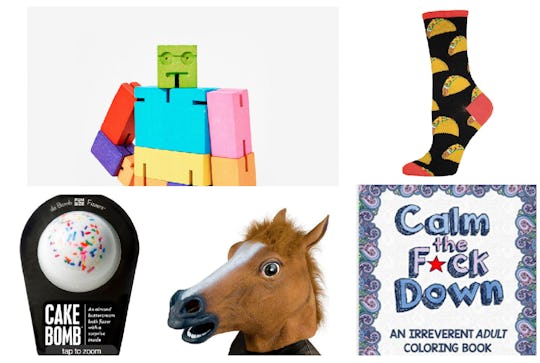 Areaware, Joy of Socks, Target, Amazon
18 Quirky White Elephant Gifts Under $10 That Everyone's Gonna Fight Over
The holidays are one of my favorite times of the year. It is a special season, but it can also be unbelievably stressful. Not only do I have to buy gifts for my six siblings, I also have to buy presents for their significant others and I can't forget about all my dad's ex-wives. Then there is the office holiday party where I have to buy a gift to participate in the white elephant gift exchange. After a while, this all starts taking a toll on my bank account, and that's why this list of white elephant gifts under $10 comes in handy.
A horse head, fizzy cake-scented bath bomb, or some silly socks all make perfect white elephant gifts because they're fun, unexpected, a little weird, and are all bound to delight someone. If you have never done a white elephant gift exchange, this is how it works:
Step 1. Bring a wrapped gift to the party.
Step 2. Draw a number. This will determine the order in which the participants will pick their gift.
Step 3. The person who drew number one picks a gift from the pile and unwraps it front of everyone.
Step 4. The person who drew the next number will then decide if they want to steal an unwrapped gift (yes, from any of the previous players), or if they want to choose a new gift from the pile. The person who gets their gift stolen gets to pick another gift from the wrapped pile.
Step 5. Step 4 is then repeated until all the players have selected or stolen a gift.
You can also add rules such as no item can be stolen more than once, or, when there are no more gifts left, the person who drew first gets one more turn to steal (making this the golden spot). But the most essential rule is to have a spending limit. Remember the Christmas episode of The Office? Everyone brought small, inexpensive gifts, but Michael (played by Steve Carell) brought an iPod that everyone fought over turning the game from fun to vicious. The key is for everyone to spend the same amount of money so that the playing field is even.
Here are some of the best white elephant gifts under $10 that people will be sure to fight over.