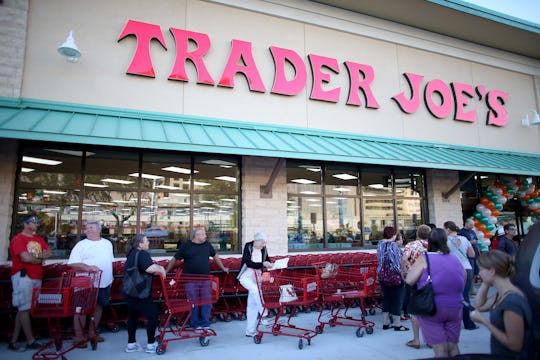 Joe Raedle/Getty Images News/Getty Images
These Trader Joe's Appetizers Are Literal Must-Haves For Your Super Bowl Party
Super Bowl parties are not the time for long, drawn out meals with multiple courses and gold gilt silverware. Nope. The party for the big game screams for finger foods, chilis, and easily served dishes that you can grab and run. Thankfully, retailers like Trader Joe's know this and are prepared with loads of goodies that fit the bill. Notorious for their prepared and frozen food section, their game day food is on point. To help you prepare for your party, I headed out there and found the best, easiest Trader Joe's appetizers for the Super Bowl that are sure to be the MVP of your gathering.
Trader Joe's can be a bit overwhelming if you go in without a game plan. I know that when I go in there with no real direction, I end up with six boxes of cookies, four bags of cauliflower gnocchi, and a lot of beer. That's why I always try to make a list before I go in so that I know what I am getting. Clear eyes, full cart, can't lose.
Their appetizer selection is also mind-bogglingly large. Trader Joe's has appetizers from all over the world, and I have yet to find one that is not so delicious that I lick my fingers after eating it. If you want to head to your local Trader Joe's for fun new apps to perfect your Super Bowl party, here's the list to keep in your pocket.