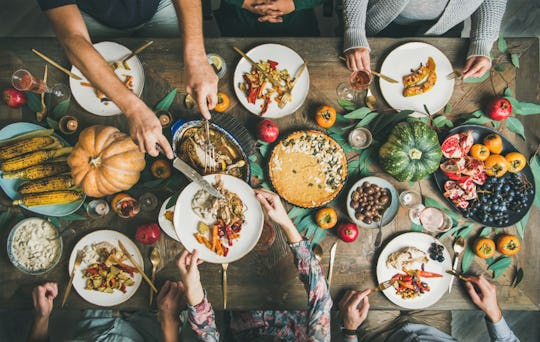 Foxys Forest Manufacture/Shutterstock
19 Funny Memes & GIFs For Thanksgiving, Because Things Are Bound To Get Weird
In case you hadn't noticed, the countdown to Thanksgiving has reached single digits, so it's time to get pumped. Relatives are calling for last minute invitations, people are googling recipes in sky-high numbers, and advertisements for Black Friday sales are everywhere. The internet is also abuzz with chatter about the impending holiday, which means there are tons of funny Thanksgiving memes floating around.
The world wide web can make a joke out of truly anything these days, and Thanksgiving is no exception. Memes are part of almost every holiday tradition at this point, even if they do get a little weird, like that trend when everyone was texting their parents for advice on how to cook a turkey in the microwave. (This is why they think millennials can't do anything, guys.) People roll their eyes at memes sometimes, but you can't deny there's something effective about an image with a funny graphic. They work because they describe universal experiences we all have, whether they're good or bad, and give us space to laugh about them. The Thanksgiving memes work especially well — I swear there's a meme for almost every situation you could find yourself in on turkey day, whether your family is super tight or if your day is filled with passive aggressive drama.
So to celebrate the meme goodness going around, read on for 19 of the most relatable Thanksgiving memes. Get ready to feel seen, heard, and hungry.
This article was originally published on