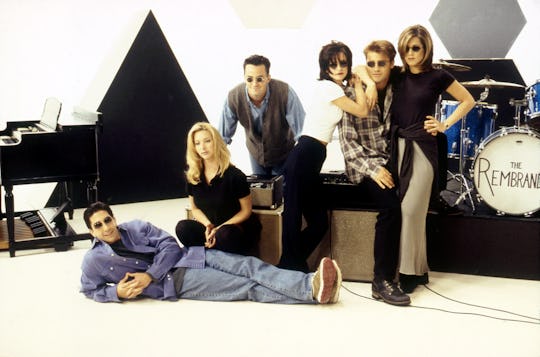 Kevin Mazur/WireImage/Getty Images
20 Baby Names Inspired By 'Friends' That Aren't Chanandler Bong
If you're naming a baby, why not look to the most nostalgic '90s show ever for inspiration? These baby names inspired by Friends can be obvious odes to the show, or simply subtle nods to this influential sitcom. And given the show's decade-long run, there are a lot of names to use for inspiration.
Airing from September 22, 1994, to May 6, 2004, the sitcom Friends is still super relevant today. In fact, a pop-up for the 25th anniversary of Friends appeared in New York last year, complete with the Central Perk couch. (Tickets for a similar show in Boston are currently sold out.) There's still a huge audience for the antics of Rachel, Ross, and the rest of the gang. In fact, Netflix paid $100 million to stream Friends through 2019, according to the New York Times. Not to be outdone, WarnerMedia paid $425 million total to stream Friends on HBO Max for the next five years, according to Hollywood Reporter. Chances are, the fan base for this particular group of friends isn't going anywhere soon, so it's a fun bit of culture to use for kid naming inspo.
Please note that there are some spoilers for the show ahead, so proceed with caution if you haven't finished watching the entire series yet. Otherwise, read on for all the top names inspired by the folks at Central Perk.