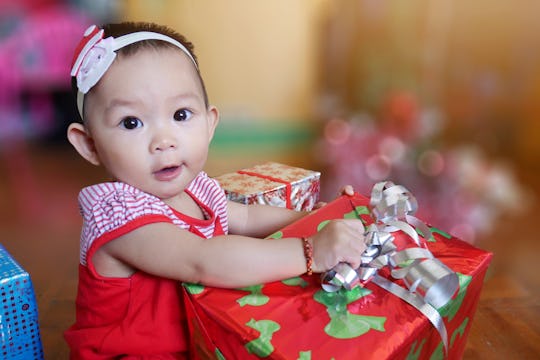 Shutterstock
These 20 Ideas For Baby's 1st Christmas Photo Are Magically Memorable
Your baby's first anything is always a moment you want to capture with a photo, from milestones (like first steps) to moments (like their first birthday). Another opportunity to showcase your adorable new addition to the family is in your baby's first Christmas photo. It also gives you the perfect excuse to silently but shamelessly show off your explicitly placed ornaments, lights, tree, and decorations. Is it really Christmas if no one sees how festive your house looks?
If only they could smell the cinnamon swirl-scented fragrance wall plug-in to complete the vibe. You already have an in-home studio if you take decorating for the holidays seriously in the first place. (If that's completely not your thing, which is totally fine, you can head to a studio like a lot of parents do to capture this moment.)
Some parents take an aesthetic yet minimalistic approach with a soft, white background accented with a little Santa hat and some fuzzy booties, while other parents make a trip out of it and travel to a real life reindeer farm for a full-on first Christmas experience. Every parent has a different approach when it comes to commemorating one of their baby's first major holidays, but there's no right or wrong way to do it. Get inspiration from these 20 photos and maybe even book your trip for next year's reindeer farm experience.