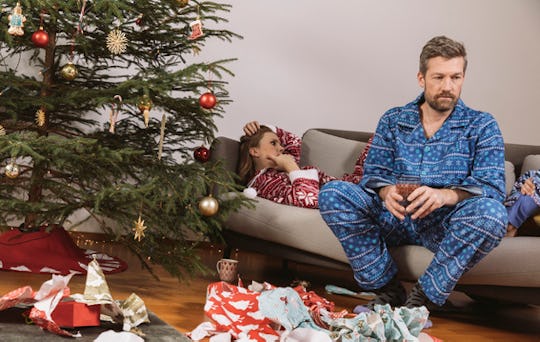 Westend61/Getty
20 Most Common Things Parents Argue About During The Holiday Season
It's supposed to be the most wonderful time of the year. So why are you snapping at your partner and always feeling aggravated? Thing is, you're not alone. Fighting with your significant other is, sadly, just a staple of the season. Even worse, there seems to be a never-ending list of things to be cranky about. Here's a list of the common things parents argue about during the holidays and how to avoid them.
When you think about it, it's a shame that the holidays come at the end of the year. You're tired. You're burnt out. Add in all the extracurriculars that schools pile on in December (i.e. Dress Your Kid Like An Elf Day, bring in 30 cupcakes for the class party, and be sure to attend the school's Winter Wonderland event ), and is it no wonder that parents snap at each other. "The holidays are a stressful time for many families," Dr. Margaret Paul, relationship expert, tells Romper. "Whether it's fighting over what gifts to get the kids, how much to spend, which family's house to spend the holiday at or to stay home, what to have for a holiday dinner, resolution will be easily reached when both people want to learn from the conflict."
So read about these 20 common things that parents argue about during the holidays, and learn how to navigate the situation if they do come up.