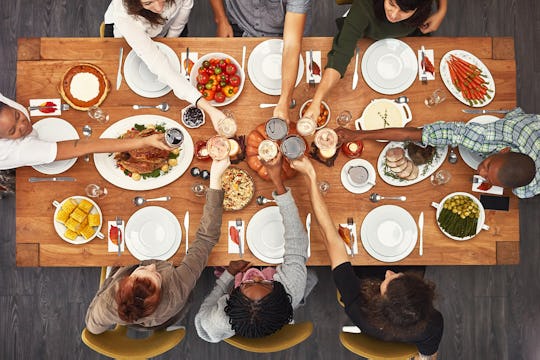 PeopleImages/E+/Getty Images
20 Yummy Instant Pot Recipes Your Friendsgiving Would Be A Shame Without
The cast of Friends has been making Friendsgiving look cool since 1994, but the Instant Pot has been making it look easy since 2010. If you're headed to a Friendsgiving dinner this year, make one of these Instant Pot Friendsgiving recipes and let the appliance do all the work, so you can spend less time worrying with the food and more time making memories with your tribe. There's just something so sweet about the idea of getting together with your chosen family on a holiday that's all about what you're thankful for; add food and alcohol to the mix, and it's pretty much the best day of the year. Plus these are usually more low-maintenance meals since everyone contributes to the meal by bringing a dish.
From cooking a turkey in an hour to making a side in less than 10 minutes, a pressure cooker will change your approach to holiday cooking. (Just make sure you factor in the appliance's preheat time.) But what are you going to do with all that extra time on your hands? Well, you could play a ridiculous game of football like the cast of Friends, or you could actually watch the Thanksgiving Day Parade for once. Either way, you're going to have to find something to do, because an Instant Pot will totally streamline your cooking process.
Read on for a few easy Instant Pot recipes that your fellow Friendsgiving guests will love.
This article was originally published on