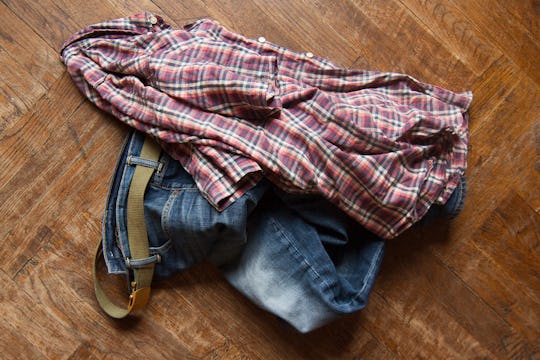 Shutterstock
These 20 Memes About Guys Taking Their Pants Off Are So Spot-On It's Creepy
You walk in from a long day of work and raising children, and what do you find? Your partner's pants strewn about the entryway and him sitting sans trousers in the living room. (Couch covers exist for a reason, people.) The naked life just calls to him, and these memes about men taking off their pants at home prove it's a universal experience.
Men removing their pants as soon as they're home is truly a phenomenon. I can't tell you how many times I've walked into my house to find my cousins roaming about in their boxers, totally unaware some might find it odd they aren't fully clothed. But I can't really blame them; it is incredibly comfortable to go bottomless. The pants-free life allows you to relax without itchy jeans or belts digging into your skin; you won't get too hot if you decide to cozy up with a blanket; and it makes running to the bathroom between episodes of Stranger Things way more efficient.
But that doesn't make it any less funny to find your partner not wearing any bottoms when you get home. Read on to see some memes that point out just how funny his commitment to not wearing pants is, and good luck trying not to giggle next time he derobes.