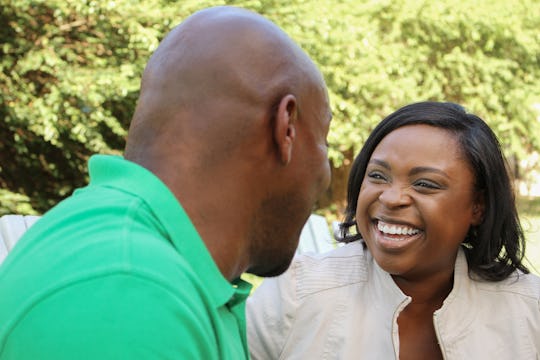 Shutterstock
Here Are 20 Things To Talk To Your Partner About That Aren't Kid-Related, For Once
When you've been in a long-term relationship with your partner, it's easy to run out of things to say. Let's face it, "How was your day, dear?" might not cut it anymore, because in reality, most days are a bit mundane, maybe even pretty crappy at worst. That's why you need interesting things to talk to your partner about to help keep the two of you interested — and invested — in each other.
Ironically, what consumes most of your day (i.e. kids and work) are the two things you should probably steer clear from talking about, experts advise. "Things stay interesting when you spice it up," Toni Coleman, LCSW, a psychotherapist, tells Romper. "When you do this through conversation, avoid falling into the habit of discussions that focus only on household/family needs, problems with kids, and complaints at work." Sheesh, what else is there to talk about, then? As it turns out, a lot, even though it's easier said than done.
On the somewhat rare occasion that we are outside the house (gasp) sans children, my hubby and I try really hard not to talk about the kids — I'm talking Herculean efforts not to mention our offspring. But with four of them, someone always has something going on and they're such an easy topic to fall back on, and that means our conversations can feel like we're at a parent/teacher conference.
If you need some guidance on what to bring up with your partner the next time you're alone, let this list of topics to talk to your partner about keep things fresh, fun, and interesting between the two of you.