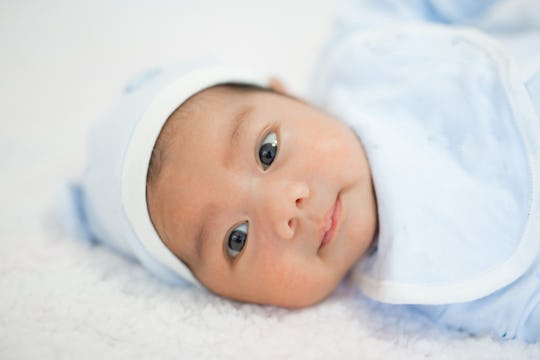 honglouwawa/E+/Getty Images
20 Unique Baby Names With 3 Syllables That Have A Sophisticated Ring To Them
When it comes to baby names, a three-syllable name sounds like a main event — a "statement name," if you will. (I just made that up, but doesn't it sound good?) So what are some unique baby names with three syllables? Two-syllable names seem most versatile, and one-syllable names are great with long last names, but a three-syllable name says a lot about your kid right off the bat, I think.
One of the hardest things about choosing the perfect name for your baby is making sure that whatever you pick for their first name sounds right with their surname. For example, rhyming is generally not a result most parents want to achieve (unless you want to guarantee a career in comedy). Most important, perhaps, is that the two names flow together. Syllable count can play a huge role in making that happen: Last names with one or two syllables, for example, sound great with three-syllable first names.
Another cool thing about three-syllable names is that most of them can easily be turned into nicknames, so it's really like you're giving your little one two monikers for the price of one. (As someone with a three-syllable name myself, I can say that I've always liked having the option of switching back and forth from my "real" name to my nickname(s) depending on the occasion or type of correspondence. It's good to have options in life, right?)
Here are some particularly appealing three-syllable name choices that aren't all over the place just yet... but they probably will be soon enough.