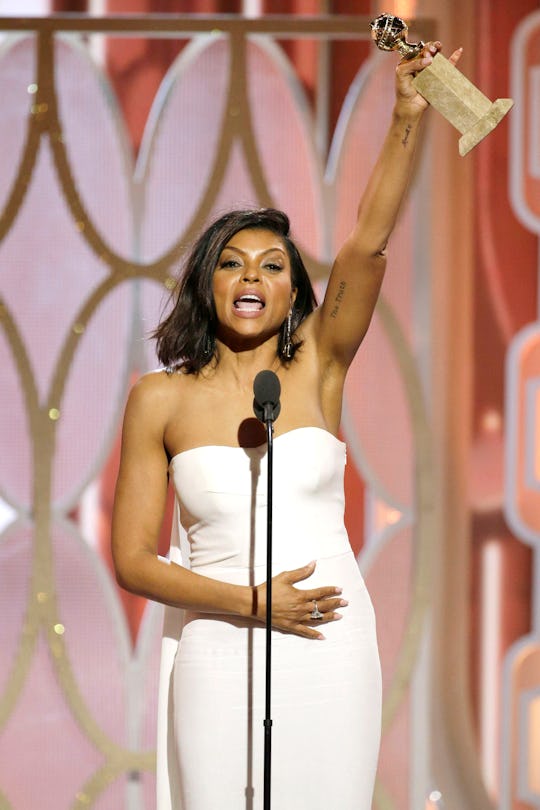 2016 Golden Globes Diversity Report Card Looked Better For Men, But Not Women
The 73rd Annual Golden Globes, on its surface, reflected a stellar year of diversity in film and television in most categories: Denzel Washington was awarded the Cecil B. DeMille Lifetime Achievement Award; Oscar Isaac won Best Performance by an Actor in a Limited Series or a Motion Picture; Taraji P. Henson won Best Performance by an Actress In A Television Series for Empire; Gael García Bernal won Best Performance by an Actor in a Television Series - Musical or Comedy for his role on Mozart in the Jungle; Will Smith and Idris Elba were both nominated; and every television category included an actor or actress of color or a show featuring a cast and storyline involving a character of color except Best Performance by an Actor in a Supporting Role in a Series, Limited Series or Motion Picture Made for Television. But the 2016 Golden Globes diversity report card reveals that even though they're making incredible strides forward, it's not exactly enough — especially where women of color are concerned.
In a year where John Boyega, a black man, portrayed a lead character in Star Wars: The Force Awakens — a major motion picture that is now the third highest grossing film of all time — it would appear that Hollywood has begun to give actors of color their due. And their fellow actors are following suit. Leonardo DiCaprio recognized the actors of Native American descent he worked with on The Revenant, and Isaac, an actor who has broken the barrier of race-based casting, discussed the importance of diversity in Hollywood backstage after accepting his award.
There were, however, no women of color nominated for any film awards. Only a few films of the sort recognized by the Hollywood Foreign Press that included women of color — Gugu Mbatha-Raw in Concussion, Zoe Kravitz in Mad Max: Fury Road, and Tessa Thompson in Creed — these women were not even nominated in supporting roles. In recent years, the last time a woman of color was nominated for Best Actress in a Drama was Viola Davis for The Help, and Quvenzhané Wallis in 2014 for Best Actress, Comedy. Beyond that, only three women have taken home big-time wins: Whoopi Goldberg in 1985 for The Color Purple, Angela Basset in 1993 for What's Love Got to Do With It, and Octavia Spencer in 2011 for The Help.
Despite Cookie handing out cookies for everyone after her much-deserved win, Hollywood still deserved the shade thrown by Eva Longoria and America Ferrera.
Henson, in her acceptance speech, spoke about how she would have expected that her more uplifting film roles would have led to her first Golden Globe instead of a role about an ex-con who sold crack.
Last year, Viola Davis made history as the first African-American woman to ever win an Emmy for a lead role. In her speech, she discussed the need for more roles for women of color. Ever since, the television industry has gotten the hint that Americans like to see diverse story lines with diverse people carrying them out. It's the film industry, however, that still has a long way to go before truly representing the world as most of us know it: multicultural with men and, especially women, from all backgrounds.
This lack of representation is disheartening considering that 2015 was a year of cultural awareness — the Black Lives Matter movement, Black Girl Magic, and the Ava DuVernay Barbie doll flying off the shelves — yet there still has been very little progress for women of color in film. This lack of diversity begins at the creation stage, reflected in Matt Damon's words to Effie Brown during the casting of Project Greenlight where he alluded that diversity should not be considered during the process of selecting a director, for which Damon eventually apologized. (And rightfully so.) Inclusion and visibility begins the very moment an idea is created, not as a last stage or a final resort. As Davis so beautifully points out, young women of color (as much as older women of color), need to see themselves and their work recognized on that stage. Davis says:
When I tell my daughter stories at night, inevitably a few things happen: number one, I use my imagination. I always start with life and then I build from there. And then another thing that happens is that she always says, 'Mommy, can you put me in the story?'
She then goes on to thank the shows creators for:
... Thinking that a sexualized, messy, mysterious woman could be a 49-year-old dark-skinned, African American woman who looks like me.
So to see not even a single talented woman of color nominated for any of the show's biggest categories is devastating. Seeing women like me depicted in those stories gives way to believing I could be in those stories — believing that they could be written to include me or to be written about me and my experiences. Women of color are not made just to exist in supporting roles. Our stories and our experiences are important enough for the lead. Even though Hollywood is making strides to include its visibility for actresses and actors of colors (and making a serious effort as far as males are concerned), its inability to see the value and the importance of women in these rules is a huge letdown.
As Ricky Gervais mentioned in his opening monologue, women in Hollywood have made it known that they will no longer accept a lower wage than their male counterparts. This movement, bought to the forefront by Jennifer Lawrence's open letter to Hollywood, has made the world aware of the inequality women face in Hollywood. But, as Chris Rock and tonight's Golden Globes have made clear, women of color in Hollywood still have miles to go before we ever get there.
Image: Paul Drinkwater/NBCUniversal via Getty Images